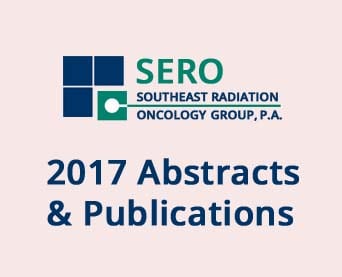 Abstract: External Validity of a Risk Stratification Score Predicting Early Distant Brain Failure and Salvage Whole Brain Radiotherapy after Stereotactic Radiosurgery for Brain Metastases
Co-written by SERO Doctors:
Stuart H. Burri, MD
Carolina Elizabeth Fasola, MD
John H. Heinzerling, MD
Scott P. Lankford, MD
Roshan S. Prabhu, MD
Benjamin J. Moeller, MD, PhD
Robert McCammon, MD
Co-written by:
Robert H. Press
Danielle M. Boselli
James T. Symanowski
Kirtesh R. Patel
Anthony L. Asher
Ashley L. Sumrall
Walter J. Curran Jr.
Hui-Kuo G. Shu
Ian R. Crocker
Published on the Internal Journal of Radiation Oncology – View Abstract
Background:
A scoring system using pre-treatment factors was recently published (Press et al., Cancer 2015) for predicting risk of early (≤6 months) distant brain failure (DBF) and salvage whole brain radiotherapy (WBRT) after stereotactic radiosurgery (SRS) alone. Four risk factors were identified: (1) lack of prior WBRT, (2) melanoma or breast histology, (3) multiple brain metastases, and (4) total volume of brain metastases, International Journal of Radiation Oncology • Biology • Physics (2017), doi: 10.1016/ j.ijrobp.2017.03.012.
Methods:
We reviewed records of 247 patients with 388 brain metastases treated with SRS between 2010-2013 at Levine Cancer Institute. The Press (Emory) risk score was calculated and applied to the validation cohort population and subsequent risk groups were analyzed using cumulative incidence.
Results:
The low risk (LR) group had a significantly lower risk of early DBF compared to high risk (HR) group (22.6% vs. 44%, p=0.004), but there was no difference between the HR and intermediate risk (IR) groups (41.2% vs. 44%, p=0.79). Total lesion volume
Conclusion:
The 3 level Emory risk score was shown to not be externally valid, but the model was able to stratify between 2 levels (LR and not-LR (combined IR and HR)] for early (≤6 months) DBF. These results reinforce the importance of validating predictive models in independent cohorts. Further refinement of this scoring system with molecular information and in additional contemporary patient populations is warranted.
Citations:
Press RH, Boselli DM, Symanowski JT, Lankford SP, McCammon RJ, Moeller BJ, Heinzerling JH, Fasola CE, Burri SH, Patel KR, Asher AL, Sumrall AL, Curran Jr WJ, Shu H-KG, Crocker IR, Prabhu RS, External Validity of a Risk Stratification Score Predicting Early Distant Brain Failure and Salvage Whole Brain Radiotherapy after Stereotactic Radiosurgery for Brain Metastases, International Journal of Radiation Oncology • Biology • Physics (2017), doi: 10.1016/ j.ijrobp.2017.03.012.
https://treatcancer.com/wp-content/uploads/2017/04/SERO-2017-abstractspublications.jpg
277
342
Southeast Radiation Oncology Group, P.A.
https://treatcancer.com/wp-content/uploads/2015/08/SERO-logo-PNG-450x174.png
2017-04-16 05:22:54
2017-04-16 05:52:29
Abstract: External Validity of a Risk Stratification Score Predicting Early Distant Brain Failure and Salvage Whole Brain Radiotherapy after Stereotactic Radiosurgery for Brain Metastases