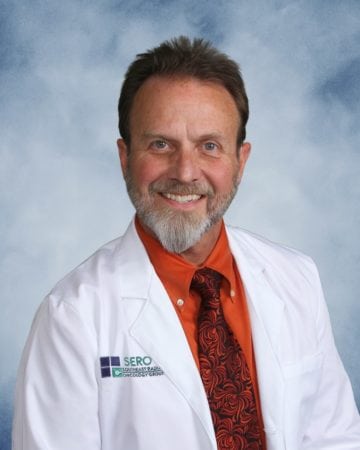 We are proud of our providers and all the fantastic work they do in our community. Throughout 2018, SERO will continue to feature interviews starting from our newest provider about life outside of the office.
This month, Greg Jones, MD is our June 2018 Provider of the Month. Dr. Jones has been with SERO Group since June 2015 and treats patients at CHS Blue Ridge – Valdese. Dr. Jones took a moment to share his background, passions and more.
---
I grew up in a small town in Georgia and spent a week every summer at Callaway Gardens where I watched the Florida State University Flying High Circus perform every day.  I learned to juggle when I was 13 with hope that I would eventually go to FSU and be in the circus.  That didn't work out so I went to the University of Georgia and started out as a music major with a piano concentration.  I later changed to Environmental Health and my sister convinced me to apply to medical school.  Before going to medical school, I worked as a Roustabout on an offshore oil rig in the Gulf of Paria, between Trinidad and Venezuela.
I attended the Medical College of Georgia and then spent three years in Dallas, Texas in my Internal Medicine residency.  After working for one year as a locum tenens physician in medicine, I returned to training and completed my Radiation Oncology residency in Augusta, Georgia in 1991.
Since that time, I have been in a solo practice at Valdese Hospital.  The department was started in 1967 by Dr. Emmett White who turned it over to me in 1991.  The department has had only two physicians since its beginning 51 years ago.  Dr. White built a house on a hillside less than a mile from the hospital in 1971 and when he decided to sell the home in 2004, my wife, Robin, and I decided to buy it.   The view from our deck is shown in the accompanying picture.  The beautiful scene is a daily reminder of our awesome Creator and the peace and wonder of our world.  We have a view of the Blue Ridge from the Shortoff Mountain to well beyond Grandfather Mountain with Table Rock and Hawksbill as the central view.  I have a little Kubota tractor that I use to bush hog the field, move big rocks and things around, and make trails through the woods.  We have the only double shuffleboard court in Valdese as far as we know.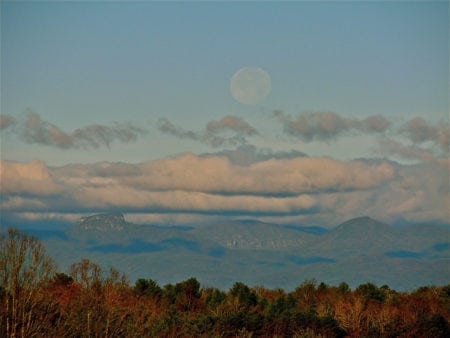 I have a pet Blue Crowned Conure named "Tinga" and we have a Chorkie named "Casey"; both are shown in the pictures.  I play multiple musical instruments, the most unusual being the Harpejji and double second steel drums.  I enjoy bamboo cultivation and have several small groves.  I enjoy juggling balls, rings, and clubs — including fire clubs. I also enjoy contact juggling.  I frequently exercise by riding my Elliptigo bicycle and my Trikke, which is a carving vehicle that is rather unusual.  I am currently learning to ride a OneWheel in celebration of my 60th birthday.
I spent over 16 years as the volunteer medical director of Burke Hospice and through that opportunity I became board certified in Palliative Medicine.  I love the practice of Radiation Oncology predominantly because of the intensity of the patient contact and I look forward to practicing for a few more years.  After that, my wife and I plan to travel in our Motor Coach and spend time with our four children and our five grandchildren (and perhaps even more by then).
https://treatcancer.com/wp-content/uploads/2018/06/GJ-family-photo-in-front-of-the-spectabilis-bamboo-grove.jpg
1067
1600
Vipul Thakkar
https://treatcancer.com/wp-content/uploads/2021/05/logo-base.png
Vipul Thakkar
2018-06-12 00:16:15
2021-01-30 23:24:39
Meet Gregory Jones, MD June 2018 Physician of the Month