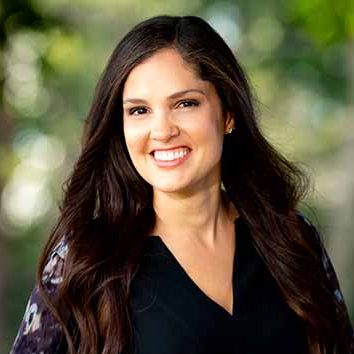 Amanda Aguirre-Johnson, PA-C
location_on
Atrium Health – Levine Cancer Institute – Pineville Radiation Therapy Center
About Aguirre-Johnson, Amanda (PA-C)
Licensure
NCCPA Certification
American Heart Association (BLS )
American Heart Association (ACLS)
American Heart Association (PALS)
Board Certification
American Academy of Physician Assistants (AAPA)
Georgia Association of Physician Assistants (GAPA)
National Kidney Foundation
Tennessee Association of Physician Assistants (TAPA); Student Member
Physicians and Students Serving Appalachia and Gaining Education Club
---
Education
Phillips Healthcare Group
2016
Talbot, TN
Clinical Rotation - 4 Weeks
Elective - Internal Medicine (Outpatient) – Floyd Edward Phillips, MD
Greenview Regional Hospital (Tristar)
2016
Bowling Green, KY
Clinical Rotation - 4 Weeks
Selective – Hospitalist-Internal Medicine (Inpatient) – Marty Casebier, MD
The Orthopedic Specialist
2016
Chattanooga, TN
Clinical Rotation - 4 Weeks
Orthopedics – John Gracy, MD Parkridge East
Texas Children's Pediatrics
2016
Houston, TX
Clinical Rotation - 4 Weeks
Pediatrics – Jackie Wanebo-May, MD
OBGYN Medical Center Associates
2016
Houston, TX
Clinical Rotation - 4 Weeks
Women's Health – Carlos Ramos, MD
Northeast Georgia Diagnostic Clinic
2016
Gainesville, GA
Clinical Rotation - 8 Weeks
Internal Medicine (Outpatient) – Karen Stabler, PA-C
Baptist Health Lexington
2015
Lexington, KY
Clinical Rotation - 4 Weeks
Emergency Medicine – Ryan Stanton, MD
Counseling and Psychiatry of Gwinnett
2015
Snellville, GA
Clinical Rotation - 4 Weeks
Behavioral Health – Alan Korbett, MD
Southern Surgical Associates
2015
Lawrenceville, GA
Clinical Rotation - 4 Weeks
General Surgery – Kevin Jensen, MD
Palmetto Medical Group
2015
Indian Land, SC
Clinical Rotation - 8 Weeks
Family Medicine – Salvatore Bianco, MD/Shephali Patel, MD
Lincoln Memorial University, Debusk College of Medicine
Harrogate, TN
Master of Science in Physician Assistant Studies (MSPAS)
The Citadel Graduate College
Charleston, SC
Master of Arts in Biology
The College of Charleston
Charleston, SC
Bachelor of Science in Biology
Minor in Spanish
---
Employment
Nephrology Physician Assistant, Kidney Care Center of Georgia
2016
Gainesville, GA
Day Surgery Support Tech, Gwinnett Medical Center
2012
Lawrenceville, GA
Research Specialist II, Medical University of South Carolina
2005
Charleston, SC
---
Additional Roles
Volunteer Experience
Houston Food Bank Young Professionals – Houston, TX | April 2016. Volunteered to sort donations to be given out for Houston area flooding relief.
Amigos For Christ: OB/GYN Surgical Medical Mission Trip to Nicaragua – Chinandega, Nicaragua | August 2012. Served as a medical volunteer to evaluate and treat patients in the community for their surgical needs. Assisted in vaginal hysterectomies, vaginal/bladder prolapse repairs, and open abdominal tumor excisions.
Hospital Volunteer On Call – Lawrenceville, GA August 2011 | July 2012. Volunteer on Call at the service of all hospital departments as needed delivering charts, medications, specimens, watching and caring for patients.