What You Need to Know About SpaceOAR™ for Prostate Cancer Treatment
Prostate cancer is the second most common cancer occurring in American men, according to the American Cancer Society. Approximately 174,600 men will receive a prostate cancer diagnosis in 2019 and, unfortunately, more than 31,000 will lose their lives. This reflects an 11 percent risk for all men, but it affects demographics differently. African American men are more likely to develop prostate cancer, and 60 percent of cases are diagnosed in men over age 65. Despite the prevalence, prostate cancer has a relatively low mortality rate and most men survive.
Despite the high survival rate, seeking treatment is not always an easy decision to make when it comes to managing side effects after treatment. Radiotherapy is the most standardized form of prostate cancer treatment and it can be used if the cancer returns after surgery. As with any form of radiation, nearby tissues may be subject to high-intensity energy and, given the prostate's proximity to the bowel, it could cause other issues. Radiation therapy for prostate cancer can cause side effects such as rectal pain and bleeding.
To reduce exposure to radiation, radiation therapy previously involved inserting a balloon between the rectum and prostate to help mitigate exposure to radiation. This balloon typically required regular replacement until the end of treatment. However, new advances in technology have led to the development of SpaceOAR™, a gel that is used in place of balloons to reduce radiation exposure to the rectum.
What Is SpaceOAR?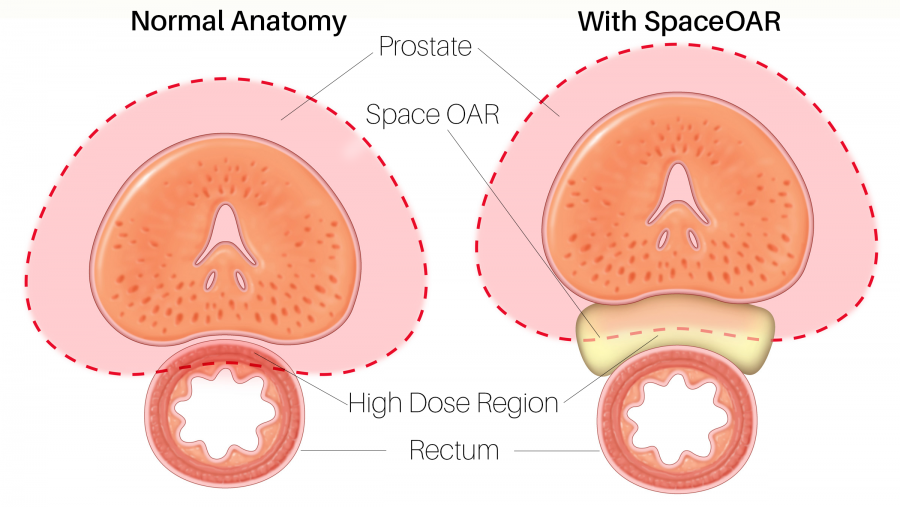 SpaceOAR is a biocompatible gel that is placed between the rectum and prostate that effectively pushes the rectum further away from the prostate. The gel decreases exposure to radiation by as much as 24%. The gel is naturally absorbed into the body after 6 months.
The SpaceOAR system helps protect patients from both short-term and long-term side effects and improves comfort during and after treatment. Unlike previous balloon implants, SpaceOAR is a one-time application, which eliminates the need for repeat visits.
The benefits of SpaceOAR can be substantial. Depending on the size of the prostate, which is larger in men with prostate cancer, exposure could affect up to 50 percent of the rectum's surface, and for cases requiring larger doses of radiation, damage may be severe. So the benefits of the SpaceOAR solution lies in preventing this exposure from occurring by protecting the at-risk organ. In fact, this is where SpaceOAR gets its name. OAR stands for "organ at risk," and SpaceOAR increases the "space" between the "organ at risk".
SERO is proud to offer the SpaceOAR system to minimize side effects of prostate cancer treatment and improve patients' overall quality of life.
Does Radiotherapy for Prostate Cancer Require the Use of SpaceOAR?
It is possible to perform radiotherapy for prostate cancer without the use of SpaceOAR. However, it increases the risk of side effects and complications, including:
Fecal incontinence, which refers to the inability to control bowel movements
Proctitis, which refers to inflammation of the rectum
Rectal bleeding
Urinary incontinence
Damage to sexual function
Additional side effects may arise following radiation therapy for prostate cancer including frequent urination, abdominal cramping, painful bowel movements, fatigue, skin reactions and even secondary cancers to the treatment area, such as colorectal cancer.
Again, it is important to note that these effects were more prominent in men that did not receive some form of shielding to protect the rectum from damage, such as SpaceOAR.
Why Health Care Professionals Use Hydrogel in Conjunction with Radiation Therapy
SpaceOAR gel provides significant benefits to patients' quality of life. Results from past clinical trials reveal that 66 percent fewer SpaceOAR patients experienced a reduction in bowel quality of life after three years compared to patients that did not receive the gel. An additional 66 percent fewer SpaceOAR recipients experienced declines in urinary quality of life. Furthermore, 78 percent of patients that receive this prophylactic treatment were more likely to retain sexual function after three years.
How Is the SpaceOAR Hydrogel Inserted?
The gel is inserted through a simple injection. Your physician will insert a small needle between the posterior (back) side of the scrotum and the anus, using transrectal ultrasound to ensure proper placement.
The idea of a needle inserted in this space may cause concern. However, the needle used is an 18-gauge. For reference, most intravenous catheters are sizes 18, 20 and 22. So, it is one of the smallest gauges available.
The SpaceOAR hydrogel exists as a liquid in the syringe, after the physician mixes both the powder and precursor components to the gel in the sterile field. The syringe itself is a double syringe, mixing both a diluent in one syringe and precursory material in the second within the needle to enable smooth injection. Upon injection and resting of the mixed compound, it takes on solid qualities and becomes a soft, gel-like substance, which will effectively block the exposure of radiation to the bowel.
Augmenix, Inc., the manufacturer, notes that the gel must only be administered through this route, and to avoid the risk of infection, any accidental entry to the rectal lumen, i.e. the bowel, ends the procedure. Placement will need to take place after the tissues heal to reduce risk of infection.
Some may express hesitation about the level of pain or discomfort during the procedure. Depending on preference and provider recommendations, the patient may be awake or under general anesthesia for placement of the gel. Regardless, it remains a minimally invasive procedure.
How to Prepare for SpaceOAR Hydrogel Insertion
The steps to preparing for the procedure mirror the steps a person takes to reduce risk of complications for outpatient procedures. You will need to:
Stop ingestion of all aspirin, aspirin by-products, anti-inflammatory medications and Vitamin E at least five days prior to the procedure to reduce the risk of excess blood loss during injection.
Take Ciprofloxacin for a three-day period, with the first dose taken the day prior to the procedure to reduce the risk of infection after injection.
Have a bowel movement earlier than two hours prior to the procedure or using a Fleet Enema to remove fecal material from the lower bowels, emptying the bowels and allowing for easier use of the transrectal ultrasound probe.
Take pain medication as prescribed by your physician to alleviate pain at the injection site.
While these standard steps exist, your provider may recommend alterations to your medication schedule and dosage. Follow the specific recommendations of your provider, and if you have any questions, remember to ask. It is better to be informed than avoid an area of concern.
What Happens to the Material After Treatment, and What About Men Without a Predisposition to Bowel Toxicity?
The SpaceOAR™ gel remains stable throughout radiation treatment for approximately three months. After this period, the body gradually breaks down and absorbs the gel, which is then excreted through the urine.
If radiation treatment persists longer than the three-month period, it may be necessary to receive a second gel injection. Furthermore, not all patients may need the SpaceOAR™ gel. It is most commonly used for those with a predisposition to bowel toxicity, but its lack of negative side effects means it may make radiotherapy a safer treatment. There are no standard conditions, also known as contraindications, that indicate scenarios where the use of the gel would be inappropriate.
With that in mind, its benefits outweigh the risks associated with radiation treatment to such an area. In a sense, the use of hydrogel goes back to considering the whole body through a multi-disciplinary approach to maximizing both survival and quality of life after cancer.
Minimize Radiation Side Effects by Using Spacing and Working with a Treatment Team Familiar with SpaceOAR
Prostate cancer occurs second only to skin cancer in men. If you do not have it, statistically, you know someone who will develop it. Unfortunately, untreated prostate cancer may metastasize, similar to other cancers, and contribute to the deterioration of overall health. Radiotherapy has shown significant promise in treating early-stage prostate cancer, as well as keeping cancer from returning.
Yet, radiation therapy to the prostate poses a risk to bowel tissues so the majority of patients in need of this treatment should consider the placement of a spacer to prevent radiation damage to the rectum. In the end, it all builds on the quality of life during and after cancer.
Those living with prostate cancer can ask for more information about the use of SpaceOAR to reduce their risk and improve quality of life. SERO's multidisciplinary team is experienced with both prostate cancer treatment and SpaceOAR, as well as other spacers used during radiation therapy. To schedule an appointment with an experienced oncologist or get more information about radiation therapy and SpaceOAR, contact SERO online or request a consultation.
https://treatcancer.com/wp-content/uploads/2020/07/Untitled-design-58.png
1142
1600
admin
https://treatcancer.com/wp-content/uploads/2021/05/logo-base.png
admin
2020-07-31 21:02:54
2021-01-26 21:02:08
What You Need to Know About SpaceOAR™ for Prostate Cancer Treatment