CaroMont Radiation Oncology Center
2525 Court Drive
Gastonia, NC 28054
New Patients/Providers:
(704) 380-0730
Current Patients/Providers:
(704) 834-2944
Hours:
Monday-Friday: 8AM-5PM
Saturday-Sunday: Closed
---
Radiation Cancer Care in Gastonia, NC
Coping with uncertainty can be the hardest part of a cancer diagnosis. However, patients gain peace of mind when they receive consistent, high-quality care at CaroMont Radiation Oncology Center. As a SERO partner, CaroMont provides Gaston County with state-of-the-art radiation oncology services.
Our Radiation Oncology Services
At SERO, our radiation oncologists are dedicated to finding the best cancer treatment plan for you. This treatment plan may incorporate one or more advanced radiation services, including: 
Stereotactic Body Radiotherapy (SBRT)
How to Schedule an Appointment
More than half of cancer patients receive some form of radiotherapy. To see if radiation therapy is right for you, meet with a SERO provider. 
New Patients
To schedule a consultation, call (704) 333-7376 or complete this form. 
After completing the radiation consultation request form, someone from the Department of Radiation Oncology at your nearest SERO location will contact you.
Current Patients
Current CaroMont Radiation Oncology Center patients should call (704) 834-2944.
Location Map
Directions to CaroMont Radiation Oncology Center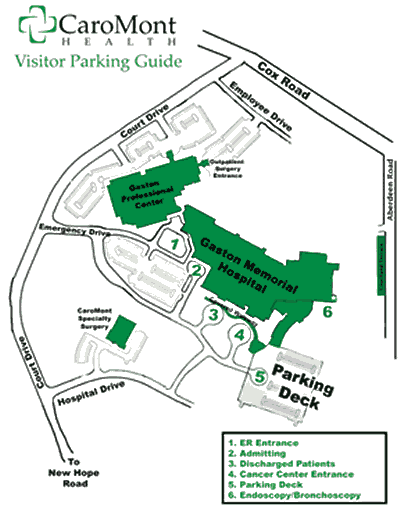 CaroMont Radiation Oncology Center (2525 Court Drive, Gastonia, NC) is an anchor of downtown Gastonia. Residents of this rapidly growing city can easily access CaroMont from I-85 or New Hope Road. However, the hospital is also just 35 minutes from Charlotte and an hour from Spartanburg, SC.
From Charlotte, take I-85 South to Gastonia. Turn right at exit 21 to Cox Road. Drive two blocks and turn left onto Court Drive. Follow the signs to the parking deck and the Cancer Center.
From Spartanburg, take I-85 North to Gastonia. Turn left at exit 20 onto New Hope Road. Drive three blocks and turn right onto Court Drive. Follow the signs to the parking deck and the Cancer Center.
What to Expect With Radiation Therapy
Many patients fear radiation therapy because they are unsure of what it involves. But, as your SERO provider will explain, there is nothing scary about radiotherapy. A typical radiation therapy session lasts about 15 minutes and is entirely painless. 
Some people experience no side effects. Others experience mild symptoms like skin irritation and soreness when swallowing. If side effects do arise, your radiation oncologist can prescribe medications to make you more comfortable. Learn more.
Your Cancer Care Team in Gastonia
The path to remission can be a lonely one. Fortunately, you can count on your care team to offer one-on-one support and guidance. Your care team will consist of SERO's compassionate providers as well as nurses, physical therapists, and other medical professionals.

Reach out to us online to learn more about our radiation oncology services offered at CaroMont Radiation Oncology Center.
Scroll to top